Ms. Lee, who started studying at Tokyo Galaxy Japanese Language School in January 2020 with the aim of entering Ecole de Patisserie de Tokio, successfully passed the school's entrance exam through the admission selection for the recommended students of designated schools.
She told us in detail about how she has been living in Japan and how she studied to win admission of her school of choice.
Please tell us how you are feeling now, after successfully passing the entrance exam for Ecole de Patisserie de Tokio.
A year ago, I started my preparation to study in Japan, yearning to enter and study at Ecole de Patisserie de Tokio. I'm really happy that I actually passed the test, but it hasn't hit me yet. Anyway, I'm glad that I made it.
Can you name anyone at Tokyo Galaxy to whom you would like to express your gratitude?
There are so many teachers that I'm feeling grateful for. I especially want to thank Ms. Nakahashi and Ms. Kaida.
Ms. Nakahashi was my entrance exam trainer, and she gave me detailed guidance when I was preparing my statement of purpose and other application documents, using easy, understandable Japanese words instead of difficult expressions. With her help, I was able to complete my documents and apply for admission.
When I was preparing for the interview test, she gave me practical advice on how to comply with the interview at Ecole de Patisserie de Tokio. She would tell me things like "It will be much better if you fix here" or "If you change here a little bit, your answer to the question will satisfy their expectation". I didn't experience any difficulties at the interview test, thanks to her advice.
Ms. Kaida taught me at the lessons of the Accelerated Learning Class, but she is also in charge of the admission guidance for Ecole de Patisserie de Tokio. She kindly answered me every time I asked a question and supported me a lot with preparation for the entrance exam.
What was the key to your success with the entrance exam?
When I first came to Japan, my Japanese was poor and I didn't have the ability to cope with interviews like I do now. So I decided to raise my Japanese proficiency to JLPT N2 level or better by August 2020, which was the timing that the application for Ecole de Patisserie de Tokio opened, and studied really hard to achieve my goal. Rather than gathering information about Japanese vocational schools, I concentrated on my classes at Tokyo Galaxy in order to improve my Japanese, and this led me to the good result, I think.
Your Japanese skill has improved a lot compared to the time you got enrolled in Tokyo Galaxy. How have you studied so far?
I had a JLPT N3 level certification when I entered Tokyo Galaxy, but I could hardly speak Japanese. At Tokyo Galaxy, I studied in the Accelerated Learning Class for 6 months, working hard on my homework and preparation and review. I also tried to correct my inappropriate Japanese by referring to my teacher's feedback on the essays I wrote.
In addition, I studied by myself using JLPT textbooks, and took some extra time to study difficult words and kanji, in order to make up for what I'm lacking.
Is there any memorable class or lesson in Tokyo Galaxy?
It's the Accelerated Learning Class, especially the Accelerated Learning A Class that I took from January to March 2020. At that time I was already a JLPT N3 qualification holder, but I was able to build up the basics of my Japanese skill by accumulating knowledge of composition, words, and grammar that I learned in the Accelerated Learning Class.
What made you decide to enroll in Tokyo Galaxy?
After deciding to study confectionery in Japan, I gathered information about various language schools, and noticed that Tokyo Galaxy students' examination pass rates of confectionery schools such as Ecole de Patisserie de Tokio and Japan Cake and Confectionery College were high. So I had an impression that Tokyo Galaxy was actively supporting its students to let them get into the schools of their choice.
Then I found out that many of such students were being selected at the admission selection as recommended candidates from designated schools, or candidates of the general recommendation system. And I came to know that the school's curriculum was very systematic and well-organized, with various optional subjects. These are the reasons I decided to study at Tokyo Galaxy.
What kind of school do you think Tokyo Galaxy Japanese is?
The students' examination pass rates of confectionary vocational schools are very high, and the school supports you all the way to the entrance exam, so I'd say it's highly recommended to people thinking about studying abroad in the field of confectionery and bakery.
Tokyo Galaxy is also recommended for those who are thinking of going on to a Japanese university or finding a job in Japan. It's because they have the Special Preparatory Class for College Admission and the Business Japanese Class, to suit each student's purpose of studying abroad. This is the point that sets it apart from other language schools.
Please give some advice to those who are aiming to go on to a vocational school in Japan.
My advice is to learn basic grammar and conversation before coming to Japan, at least to the extent you can do a part-time job. By doing so, you will be able to start looking for a part-time job as soon as you come to Japan, and you will have more opportunities to talk with Japanese people, which will further improve your Japanese level.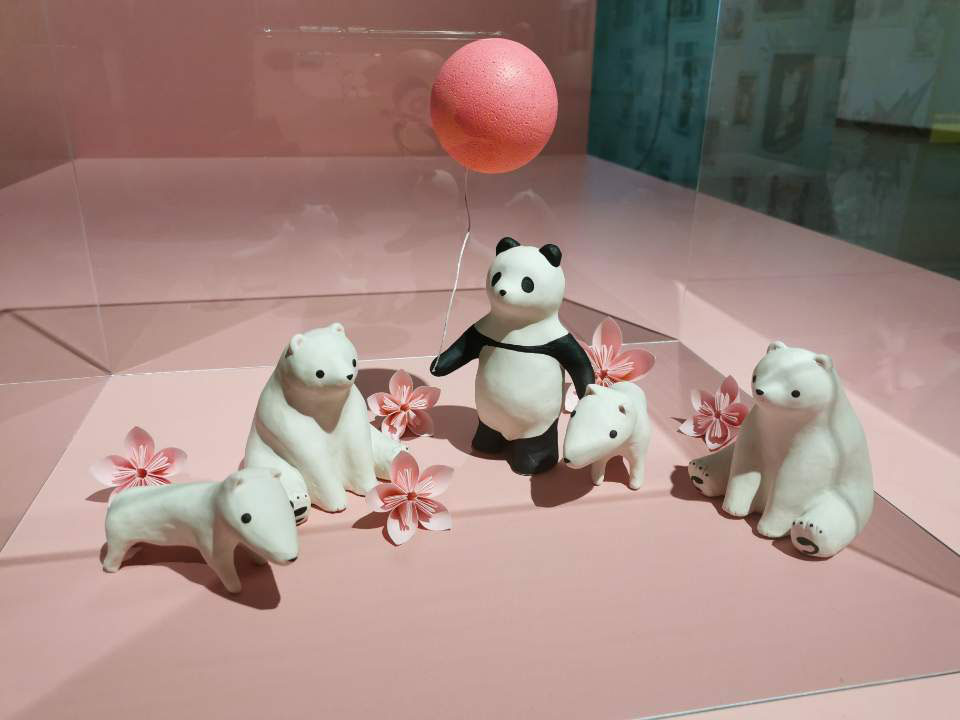 We know that your life in Japan as an international student has changed unexpectedly due to the impact of COVID-19. How did you overcome its influence?
Our classes were switched to remote learning in March and April 2020, and I had a lot of time to spare at home. So I did my school homework, and watched Japanese entertainment programs and movies with subtitles, looking up the meanings of the words I didn't understand. I also made great use of Netflix. And yet, I had plenty of free time left, so I tried to see my Japanese friends and talk with them to improve my Japanese.
What are your goals for studying at Ecole de Patisserie de Tokio?
International students who have graduated from Japanese confectionery or bakery vocational schools are now able to obtain a working visa. (Until now, such students were not allowed to get a visa and they had to return to their home country immediately after graduation.) Not everyone can receive a working visa, so in order to be able to work in Japan, I'm going to improve my ability in various areas by creating my own confectionery recipes and working part-time at a bakery store. I'm aiming to find a job in Japan, so I'm hoping to do things that only I can do while I'm studying abroad.
We want to congratulate Ms. Lee again for passing the entrance exam for Ecole de Patisserie de Tokio's Confectionery Course.
She has been making constant effort to achieve the aim of entering Ecole de Patisserie de Tokio, and her Japanese skill has improved so much. She worked toward her goal diligently for quite a long time. We are so proud of her and we wish to tell her "well done!"
We are hoping that she succeeds in her next objective, which is to get a job in Japan, and become a unique pastry chef in her own way.