KEIO University Graduation
Establishment of a school at 1986
Appointment as principal at 1997
Tokyo Galaxy Japanese Language School is located within five-minute walk from Tokyo Metro Kayabacho station, in the central area of Tokyo, in Chuo-ku. The surrounding area has been developed as the business and financial center, while remaining the historical atmosphere of Edo era , as represented by Nihonbashi, a famous bridge as the starting point of Edo Five Routes and Tokyo Stock Exchange. This peaceful environment and our own solid eight stories seismic proofed building approved as an educational facility by city of Tokyo enable our students to focus on studying at ease.
Established in 1986, our school is highly regarded in many countries for our excellent curriculum. My ideal formed through long years of involvement in the teaching of Japanese language, our excellent teaching staffs who help realize it, and the passion and fortitude of the students who have been seriously engaged in the study of Japanese language here, these three forces coming together formed our school today.
It's most distinguishing characteristic is the diversity. Our primary concern is the balance of students' nationalities and our curriculum which suits students' purposes.
I could guarantee that we offer classes that could meet the needs of all students such as academic advancement, career related training, or cultural experience. Organized by our experienced coordinators focused on maintaining the high standard, all the classes are taught by qualified teachers, some long time veterans in the filed, some young and highly trained, joining forces to give students their best.
I am sure that you will find the most effective and satisfying academic choices which best suit all your needs, here at the Tokyo Galaxy Japanese Language School.</p>
The word "Galaxy" in our school's name is taken from the word galaxy in English.
This word embodies our hope that each and every one of our students, through learning Japanese, is able to shine brighter in the great "galaxy". We hope to support you in every possible way so that you may make the first step toward your bright future.
President Nagai Sakiko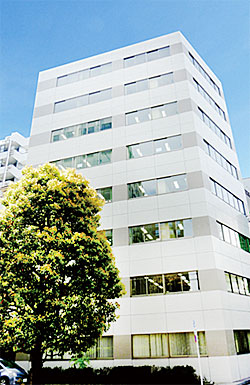 Tokyo Galaxy History

Apr. 1986 Established
Apr. 1990 Recognized by APJLE (The Association for the Promotion of Japanese Language Education)
Apr. 1998 Japan's first Comprehensive Optional class curriculum added as part of Regular Course
Aug. 2001 Purchased and moved into the school building in Shiba, Minato-ku
Apr. 2002 Special Preparatory Class for University Admission added as part of Regular Course
Apr. 2008 All the schools established under us, the Educational Foundation Galaxy Gakuen, are approved collectively by the mayor of Tokyo Metropolitan Government as the Tokyo Galaxy Japanese Language School
Oct. 2008 Business Japanese Class added as part of Regular Course
Oct. 2010 CSN (The Swedish National Board of Student Aid) Accreditation
Apr. 2015 Moved to Shinkawa, Chuo-ku (Nihonbashi, Ginza)
Oct. 2015 The school has been selected as a designated school of The College Preparatory Course from Ministry of Education, Culture, Sports,
Science and Technology.